New Deal for Youth Online Action Hub
Attend online or in person. Join our Block Party. Paint a Mural. Write a letter. Send an email. Make a Call.
Join the ND4Y Changemakers October 6th – 9th for our New Deal for Youth Week of Action. You can join us in-person in Washington, D.C. or virtually through our online action hub.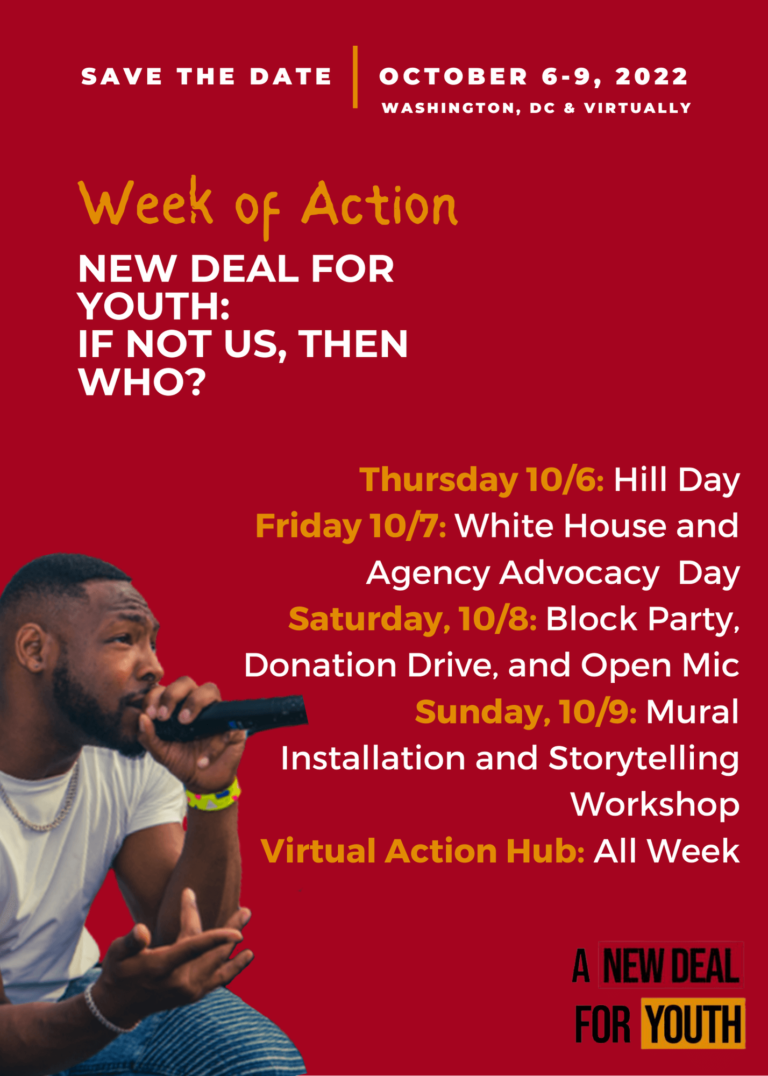 Here's are 4 ways you can take action virtually:
SEND A LETTER TO CONGRESS
Submit a pre-written email to your congressional representative to partner with ND4Y to join our Youth Caucus, co-sponsor our endorsed legislation, and schedule a meeting with our Changemakers. Check out our Legislative Advocacy strategies here.
SEND AN EMAIL TO PRESIDENT BIDEN
Send a pre-written email to President Biden to partner with New Deal for Youth on our administrative asks.
DONATE FUNDS TO OUR LOCAL SERVE YOUR CITY WARD 6 MUTUAL AID
Our New Deal for Youth Changemakers and Partners are hosting a local donation drive at our Block Party to benefit our community partners at Serve Your City Ward 6 Mutual Aid. Serve Your City has served as the infrastructure hub for Ward 6 Mutual Aid here in Washington, DC. This is a partnership of more than three dozen organizations coming together in mostly Black- and Brown-led neighborhoods to share resources and save lives after the COVID-19 pandemic struck the District. We believe that national change starts locally. Join us in supporting this local effort.
SIGN ON TO OUR ND4Y DEMANDS
For more than two years, A New Deal for Youth Changemakers from communities across the country have been working to develop policy ideas and solutions on the issues that most impact their lives. We've developed thirty-six demands across our six core areas: economic justice and opportunity, healing and wellbeing, justice and safe communities, democracy and civic engagement, environmental justice, and immigration justice.
Legislative Advocacy: Hill Day
Changemakers & Partners Only
Thursday, October 6 from 12:00 to 5:00 pm ET, our New Deal for Youth Changemaker delegation will be advocating for our legislative agenda with members of Congress. The Hill visits will be both virtual and in-person in Washington, D.C. The Hill Day will include a morning training session and an evening happy hour reception networking event.
Location: United States Capitol Office Buildings and Virtual
Register Here (Changemakers & Partners Only).
Administrative Advocacy: Summit
Join us online on Friday, October 7 from 10am to 1pm ET for an Administrative Advocacy Summit where we will be sharing our priorities with members of the Biden-Harris Administration and learn how the Biden-Harris Administration can positively impact the future of young people.
Location: Virtual
Register Here
Attend our D.C. Block Party
Join us on Saturday, October 8 from 11am to 3pm ET for our in-person Block Party and open mic in D.C. This family friendly event will include live music, games, youth-led organizations, vendors, donation drive, open mic, and more.
Location: D.C., Venue address will be updated soon.
Register Here
Join us on Sunday, October 9th from 9am to 12pm ET as we finalize our second ND4Y mural. Music, storytelling workshop, and #artforchange! No previous mural experience necessary.
Location: One DC 2500 MLK Jr. Ave SE Washington, DC 20020
Register Here
Can't Join us in D.C.? Take Action Virtually!
Can't Join us in D.C.? Take Action on our Virtual Action Hub! Sign up to receive more information about our virtual action hub. On our virtual action hub, you can send a letter to your congressional representative, write to the White House, and sign on to our New Deal for Youth Demands. Every action matters.